May
10
Fri
Aida – School Edition

@ Derry Opera House<br>29 W. Broadway<br>Derry NH 03038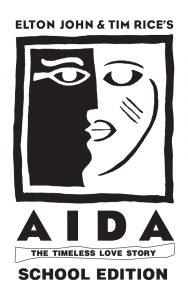 Adapted from the four-time Tony Award-winning hit, Elton John and Tim Rice's Aida School Edition is an epic tale of love, loyalty and betrayal, chronicling the love triangle between Aida, a Nubian princess stolen from her country, Amneris, an Egyptian princess, and Radames, the soldier that they both love.
An enslaved Nubian princess, Aida, finds her heart entangled with Radames, an Egyptian soldier who is betrothed to the Pharaoh's daughter, Amneris. As their forbidden love blossoms, Aida is forced to weigh her heart against the responsibility that she faces as the leader of her people. Aida and Radames' love for one another becomes a shining example of true devotion that ultimately transcends the vast cultural differences between their warring nations, heralding a time of unprecedented peace and prosperity.
With an unforgettable score that features soaring ballads and rousing choral numbers, Aida School Edition is a modern crowd-pleaser that embraces exuberant dancing, staging and singing.
PRESENTED BY THE MAJESTIC ACADEMY OF DRAMATIC ARTS (TEENS)
DIRECTED by ELLEN DESMOND
Musical Direction by KEITH BELANGER
Choreography by CANDACE GATZOULIS
Music by Elton John / Lyrics byTim Rice
Book by Linda Woolverton, Robert Falls, and David Henry Hwang
Friday, May 10, 2019 at 7:00pm
Saturday, May 11, 2019 at 7:00pm
Sunday, May 12, 2019 at 2:00pm
Jul
12
Fri
Jekyll & Hyde – The Musical

@ Derry Opera House

The epic struggle between good and evil comes to life on stage in the musical phenomenon, Jekyll & Hyde. Based on the classic story by Robert Louis Stevenson and featuring a thrilling score of pop rock hits from multi-Grammy- and Tony-nominated Frank Wildhorn and double-Oscar- and Grammy-winning Leslie Bricusse, Jekyll & Hyde has mesmerized audiences the world over.
An evocative tale of two men – one, a doctor, passionate and romantic; the other, a terrifying madman – and two women – one, beautiful and trusting; the other, beautiful and trusting only herself– both women in love with the same man and both unaware of his dark secret. A devoted man of science, Dr. Henry Jekyll is driven to find a chemical breakthrough that can solve some of mankind's most challenging medical dilemmas. Rebuffed by the powers that be, he decides to make himself the subject of his own experimental treatments, accidentally unleashing his inner demons along with the man that the world would come to know as Mr. Hyde.
Conceived for the Stage by Frank Wildhorn and Steve Cuden
Book and Lyrics by Leslie Bricusse
Music by Frank Wildhorn
Based on the story by Robert Louis Stevenson
Directed by ELLIOT ROBERT OWENS / Musical Direction by KEITH BELANGER

Friday, July 12, 2019 at 7:00pm
Saturday, July 13, 2019 at 7:00pm
Sunday, July 14, 2019 at 2:00pm
Friday, July 19, 2019 at 7:00pm
Saturday, July 20, 2019 at 7:00pm