Apr
5
Fri
Anybody Out There?

@ Executive Court Banquet Facility

By John Patrick / Poor Oliver Pankey is a born loser; his landlady charges him when someone else breaks his window; his fiancee leaves him for a married man; his boss at the bank cuts his pay when he asks for a raise; and a thief takes everything he has—including his only suit. And, as the last straw, when he visits a doctor to check on the results of a blood test the files get switched, and he is told that he'll be dead within six months. Fed up, and reconciled to his fate, Oliver turns into a raging lion, performing feats of dazzling bravery and ending up as the new branch manager of the bank. He even agrees to help the FBI by becoming a sitting duck for a gangland shoot-out—only to learn, at the eleventh hour, of the doctor's horrendous error. Needless to say our stalwart hero's knees turn suddenly to jelly, but the action spins zanily on, deftly finding its way to a happy—and hilarious—conclusion.
A wildly farcical comedy, one of this renowned author's fastest and funniest, which deals with the uproarious metamorphosis of a shy little milksop into a fearless hero after he has been told (erroneously) that he has only six months to live.
DIRECTED BY AARON FOSS / Assisted by JOE PELONZI
24-HOUR ADVANCED RESERVATIONS REQUIRED; LIMITED TICKETS AVAILABLE UP TO 3 HOURS PRIOR TO EVENT START. Call (603)669-7469 to avoid online service fees.
Menu:
Sliced Ham with sauce. Served with Chef's Choice of Vegetable and Starch.
Served with Chef's choice of Vegetable and Starch. Creamy Chocolate Mousse Accented With Fresh Mint

Vegetarian and Gluten-Free options are available with advanced notice (Chef's Choice)
CASH BAR (Cards accepted) available at all dinner theatre events.
Friday, April 5, 2019 at 7:00pm
Saturday, April 6, 2019 at 7:00pm
Sunday, April 7, 2019 at 1:30pm
Apr
26
Fri
Dearly Beloved

@ The Majestic Studio Theatre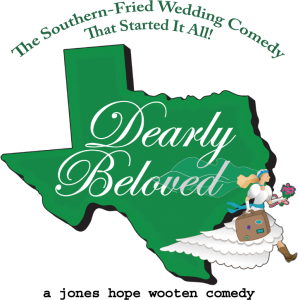 by Jessie Jones, Nicholas Hope, Jamie Wooten / Hilarity, Texas style! An over-the-top wedding, three feuding sisters and a church full of small town eccentrics. What could possibly go wrong? In this fast-paced, laugh-a-minute comedy, the Futrelle sisters of Fayro, Texas – Frankie, Twink and their estranged sister, Honey Raye – are thrown together to pull off a family wedding. But it is not going well. Frankie's oldest twin daughter is marrying the son of the queen of what passes for high society in Fayro and Frankie is desperate to make this antebellum-themed wedding an elegant affair. It soon becomes obvious that Fate has other plans…
Between Frankie's suspicions of her husband's infidelity, Twink's revamp of the wedding dinner into a tacky potluck supper and Honey Raye's bombshell news that's fueled her mysterious move back to town, the chances for this wedding being a success are fading fast. In spite of the best efforts of Miss Geneva Musgrave – the cantankerous wedding coordinator – and the homespun enthusiasm provided by Dairy Dog employee, Raynerd Chisum – the proceedings go hysterically off course with the stunning revelation that the bride-to-be and her intended have fled town. The Futrelles scramble to keep the mutinous wedding guests in place by staging a hastily thrown-together talent show in the sanctuary while the Deputy Sheriff races through the countryside to collar the runaway couple and drag them back for the "I do's."
This joyful Southern-fried Jones Hope Wooten Comedy about love, marriage, sisterhood and three hundred pounds of good, ol' Texas barbeque will have you laughing all the way down the aisle!
DIRECTED BY CAROLE NEVEUX
Friday, April 26, 2019 at 7:00pm
Saturday, April 27, 2019 at 7:00pm
Sunday, April 28, 2019 at 2:00pm