Nov
15
Fri
14th Annual Auction & Performance

@ The Majestic Studio Theatre
Nov 15 @ 6:30 pm

The Majestic Theatre will host its 14th Annual Auction & Performance on November 15th, 2019. This year we have DISCO FEVER and can't wait to bring you disco themed musical performances by children, teens and adults. Boogie on down for our live and silent auctions, raffles and light refreshments to raise funds for upcoming community theatre productions and educational programs. Special thanks to our event sponsors: 
Platinum Sponsors:
      
Gold Sponsors:
  
Live and silent auctions will feature overnight get-aways, tickets to theatre, music and sporting events, gift certificates to local restaurants, and stores, sports memorabilia, fine art, jewelry and more. Raffles include our popular wine & spirit raffle and specialty theme baskets including: Chocolate Lovers, Gift Certificates Galore, Family Fun, Scratch Ticket Collection, Spa, Going Green and more.
Become a sponsor – Majestic Theatre Auction Sponsorship 2019
To donate an item contact Karen@majestictheatre.net or 603-669-7469
Check back here for our Auction Item Preview Listing!
Dec
13
Fri
Elf The Musical

@ Derry Opera House

Book by Thomas Meehan & Bob Martin
Music by Matthew Sklar
Lyrics by Chad Beguelin
Based on the New Line Cinema film by David Berenbaum
A title known the world over, Elf The Musical is a must-produce holiday musical that can easily become an annual tradition for any theatre. Based on the cherished 2003 New Line Cinema hit, Elf features songs by Tony Award nominees Matthew Sklar (The Wedding Singer) and Chad Beguelin (Disney's Aladdin on Broadway), with a book by Tony Award winners, Thomas Meehan (Annie, The Producers, Hairspray) and Bob Martin (The Drowsy Chaperone).
Buddy, a young orphan, mistakenly crawls into Santa's bag of gifts and is transported to the North Pole. The would-be elf is raised, unaware that he is actually a human until his enormous size and poor toy-making abilities cause him to face the truth. With Santa's permission, Buddy embarks on a journey to New York City to find his birth father and discover his true identity. Faced with the harsh realities that his father is on the naughty list and his half-brother doesn't even believe in Santa, Buddy is determined to win over his new family and help New York remember the true meaning of Christmas.
This modern-day holiday classic is sure to make everyone embrace their inner elf. After all, the best way to spread Christmas Cheer is singing loud for all to hear.
Directed and Choregraphed by Rebecca Antonakos Belanger
Musical Direction by Keith Belanger
NH Community Theatre Premiere!
Friday, December 13, 2019 at 7:00pm
Saturday, December 14, 2019 at 2:00pm and 7:00pm
Sunday, December 15, 2019 at 2:00pm
Call (603)669-7469 to avoid online fees.
Our Amazing Cast:
Buddy………….Robbie Chubbuck
Jovie………….Meredythe Leonard
Walter…………B. Jason Ouellette
Emily………….Bethany Layne
Michael………..Ian Dolley
Deb……………Candace Gatzoulis
Manager………..Mike Bunie
Greenway……….David Ropple
Santa………….Randle Cassady
Chadwick……….Catherine Dennehy
Matthews……….Carole Bilodeau
Fake Santa……..Daniel Scheys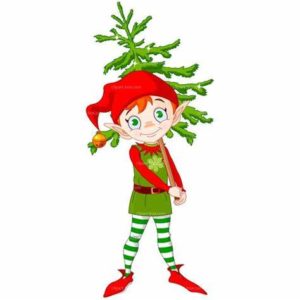 Elf / Ensemble….Reagan Parker
Elf / Ensemble….Niav O'Leary
Elf / Ensemble….Colby Willis
Elf / Ensemble….Juliet Coffler
Elf / Ensemble….Ethan Boucher
Elf / Ensemble….Meghan Dolley
Elf / Ensemble….Emma Willis
Elf / Ensemble….Avelinn Ward
Elf / Ensemble….Vanessa MacDonald
Elf / Ensemble….Evan Welch
Elf / Ensemble….Hayden McNamara
Ensemble……….Heather Armhold
Ensemble……….Cady Hickman
Ensemble……….Harley Cassady
Ensemble……….Betty Fortin
Ensemble……….Piper Fortin
Ensemble……….Kyla Gatzoulis
Ensemble……….Karen McGraw
Ensemble……….Alice Ouellette
Ensemble……….Pamela Savino
Ensemble……….Laura Vitale