Dec
5
Thu
Judy's Scary Little Christmas

@ The Majestic Studio Theatre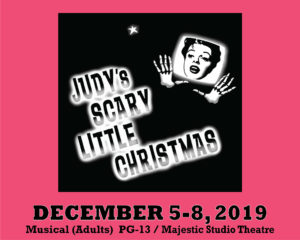 Book by Jim Webber and David Church
Music and Lyrics by Joe Patrick Ward
"Judy's Scary Little Christmas" is an outrageous spoof of holiday TV specials from yesteryear and a look behind the scenes at the stars they featured.  Bing Crosby, Ethel Merman and Liberace all join Judy Garland to ring in the holidays, while cameos of Joan Crawford, Richard Nixon and Lillian Hellman all add spice to the punch.  Eight musical numbers performed by a cast of 14 make this clever parody an affectionate look back at the Golden Age of Television and a delightful holiday show for today's audiences.
Judy Garland is primed for her biggest comeback ever – the dazzling star of her own TV special, broadcast live on Christmas Eve, 1959. Judy's guests include Bing Crosby (making some holiday "grog"), Ethel Merman (plugging her Hawaiian album), and Liberace (with a handsome sailor in tow). However, mysterious snafus behind the scenes and cameo appearances by commie-baiting Vice President Richard Nixon (who performs a magic act) and blacklisted writer, Lillian Hellman, (who's forced to read "Children's Letter to Santa" with a puppet) throw Judy's program off course. The surprises climax when the arrival of Joan Crawford is interrupted by the spectral figure of…Death. The evening takes a detour into the twilight zone as the celebrities are forced to confront the lies behind their legends. Devastated and alone, Judy meets a special fan who ultimately proves that, despite her flaws, her shining legacy still endures. Please note: PG – Contains some adult comedy.
Directed by Jim Webber
Musical Direction by Jed Holland / Choreography by Martha Daniels Holland
Thursday, December 5, 2019 at 7:00pm
Friday, December 6, 2019 at 7:00pm
Saturday, December 7, 2019 at 2:00pm and 7:00pm
Sunday, December 8, 2019 at 2:00pm
Call (603)669-7469 to avoid online fees. This show is PG-13.
"Magical! A side-splitting musical parody…wickedly funny! – Los Angeles Times
"Fascinating, hilarious and wildly entertaining!" – Gerard Alessandrini, Creator of Forbidden Broadway
"A true holiday treat!" – Hollywood Reporter
"Hilarious! A surreal snow globe highball; a Hollywood Christmas card from beyond the grave!" – Portland Mercury

"Holiday smash of the season…I can't say enough about what a bracing surprise this unique show is!"  – Talkin' Broadway, 2014
"Filled with gut busting laughs and wonderful musical numbers!" – Broadway World.com, 2014

"Must-see alternative to the Christmas classics we automatically fall back on during the holiday season!" – West Seattle Herald, 2014
THE CAST
Sheree Owens as Judy Garland
Rich Hurley as Bing Crosby
Michael Coppola as Liberace
Katie Collins as Ethel Merman
Aaron Compagna as Richard Nixon
Kath Palmer as Lillian Hellman
Barbara Webb as Joan Crawford
Glen Grimard as Death/Director
Sam Durfee as Sailor/Punch
Ensemble:
Denis Brunelle, Julia Fernandez‐Turk
Donna O'Bryant, Ryan Quinlan
Dec
13
Fri
Elf The Musical

@ Derry Opera House

Book by Thomas Meehan & Bob Martin
Music by Matthew Sklar
Lyrics by Chad Beguelin
Based on the New Line Cinema film by David Berenbaum
Based on the cherished 2003 New Line Cinema hit, Elf features songs by Tony Award nominees Matthew Sklar (The Wedding Singer) and Chad Beguelin (Disney's Aladdin on Broadway), with a book by Tony Award winners, Thomas Meehan (Annie, The Producers, Hairspray) and Bob Martin (The Drowsy Chaperone).
Buddy, a young orphan, mistakenly crawls into Santa's bag of gifts and is transported to the North Pole. The would-be elf is raised, unaware that he is actually a human until his enormous size and poor toy-making abilities cause him to face the truth. With Santa's permission, Buddy embarks on a journey to New York City to find his birth father and discover his true identity. Faced with the harsh realities that his father is on the naughty list and his half-brother doesn't even believe in Santa, Buddy is determined to win over his new family and help New York remember the true meaning of Christmas.
This modern-day holiday classic is sure to make everyone embrace their inner elf. After all, the best way to spread Christmas Cheer is singing loud for all to hear.
Directed and Choregraphed by Rebecca Antonakos Belanger
Musical Direction by Keith Belanger
NH Community Theatre Premiere!
Friday, December 13, 2019 at 7:00pm
Saturday, December 14, 2019 at 2:00pm and 7:00pm
Sunday, December 15, 2019 at 2:00pm
Call (603)669-7469 to avoid online fees.
TICKETS ARE GOING FAST – ADVANCED TICKETS HIGHLY SUGGESTED
Our Amazing Cast:
Buddy………….Robbie Chubbuck
Jovie………….Meredythe Leonard
Walter…………B. Jason Ouellette
Emily………….Bethany Layne
Michael………..Ian Dolley
Deb……………Candace Gatzoulis
Manager………..Mike Bunie
Greenway……….David Ropple
Santa………….Randle Cassady
Chadwick……….Catherine Dennehy
Matthews……….Carole Bilodeau
Fake Santa……..Daniel Scheys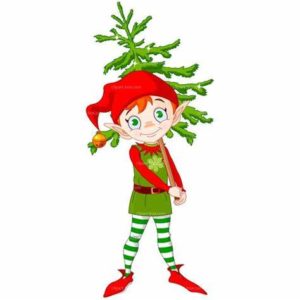 Elf / Ensemble….Reagan Parker
Elf / Ensemble….Niav O'Leary
Elf / Ensemble….Colby Willis
Elf / Ensemble….Juliet Coffler
Elf / Ensemble….Ethan Boucher
Elf / Ensemble….Meghan Dolley
Elf / Ensemble….Emma Willis
Elf / Ensemble….Avelinn Ward
Elf / Ensemble….Vanessa MacDonald
Elf / Ensemble….Evan Welch
Elf / Ensemble….Hayden McNamara
Ensemble……….Heather Armhold
Ensemble……….Cady Hickman
Ensemble……….Harley Cassady
Ensemble……….Betty Fortin
Ensemble……….Piper Fortin
Ensemble……….Kyla Gatzoulis
Ensemble……….Karen McGraw
Ensemble……….Alice Ouellette
Ensemble……….Pamela Savino
Ensemble……….Laura Vitale