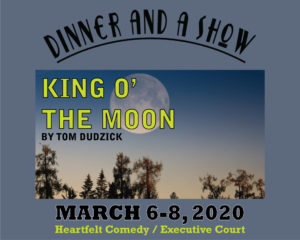 AUDITION: King O' The Moon
Ages 17 through Adult
Thursday, January 16th at 6:30pm
Sunday, January 19th at 2:00pm
Performance Dates: March 6-8, 2020 at Executive Court.
Although this is a dinner theatre performance actors are NOT required to help in the serving or execution of the meal.
SYNOPSIS:
Book by Tom Dudzik
DIRECTED BY A. ROBERT DIONNE
CHARACTERS:
ELLEN PAZINSKI: Female, 45-55 / The widowed matriarch of the Pazinski clan, still living "over the tavern" that is the family business.
RUDY PAZINSKI: Male, 18-25 / Ellen's 22 y/o son; he is impassioned, devout, and confused, but in the wrappings of a comedian, the class clown, the smart-ass little brother; quick and witty; currently attending a Catholic seminary in preparation to become a priest, he cares deeply about his family and about the anti-war movement.
GEORGIE PAZINSKI: Male, 20-25 / 23 years old; Ellen's son; a developmentally challenged man-child with the mental and emotional age of about a five years old; a sweet young man in generally good spirits, he communicates with noises and gestures and a precious few garbled words; he has a determined single focus on the things he cares about.
EDDIE PAZINSKI: Male, 20-30 / 25 years old; Ellen's son. Eddie got drafted, and into the Army and is happy to serve; he's home right now with his pregnant wife Maureen. He is tough, the older brother-bully of the family; Eddie is not as smart or thoughtful as Rudy, nor as funny and quick-witted; but he wants to do what is right, and he is unfailingly loyal.
ANNIE PAZINSKI: Female, 20-30 / 26 years old; Ellen's daughter; she has a smart, sarcastic tone, and she typically has spent a lot of energy feeling sorry for herself; now that she is in a failing marriage, she has real reason to do so; she feels trapped, and doesn't know whether or not her family can help her.
MAUREEN PAZINSKI: Female, 20-30 / 26 years old; Ellen's daughter-in- law; Eddie's wife who is about halfway through her pregnancy; she is attractive, sexual, and a blue-collar diner waitress; Maureen is as coarse and foul-mouthed and tough as her husband Eddie, but she loves him.
WALTER FRONZAK: Male, 50-59 / Ellen's employee/suitor; a friendly man who works at the family tavern and has been around the family for many years; Walter is low-key, but determined; he's genuinely kind and thoughtful; now, he has fallen for Ellen and wants to marry her.
SCHEDULE:
REHEARSAL SCHEDULE*: (at Majestic Studios)

JANUARY SCHEDULE:

SATURDAY 1/25 from 10:00am-12:00pm

FEBRUARY SCHEDULE (we will only rehearse 3 days a week chosen from the following days)

MONDAYS, WEDNESDAY and THURSDAYS from 6:30pm-9:30pm
SATURDAYS from 10am-1pm

*PLEASE BRING YOUR DATE CONFLICTS TO THE AUDITIONS
MANDATORY DRESS REHEARSALS: (at Majestic  Studios)

SUNDAY, MARCH 1st from 5-9pm
MONDAY, MARCH 2nd from 6pm-???
TUESDAY, MARCH 3rd from 6pm-???
WEDNESDAY, MARCH 4th from 6pm-???
THURSDAY, MARCH 5th MOVE-IN and DRESS REH. TBA

MANDATORY PERFORMANCES: (at Executive Court)

FRIDAY, MARCH 6th at 7:00pm
SATURDAY, MARCH 7th at 7:00pm
SUNDAY, MARCH 8th at 1:30pm

followed by MANDATORY STRIKE for all cast members.
ADDITIONAL DETAILS:
You do not need to make an audition appointment, simply show up. We see people in the order they arrive and complete paperwork. To print and fill out the audition form ahead of time please click here: Audition Form – Master.
There is a $25 production fee associated with this production ($50 maximum per family)
Audition will consist of readings from the script (provided at audition time). WATCH THIS SPACE FOR READINGS (optional)
AUDITIONS & REHEARSALS HELD AT:
The MAJESTIC THEATRE
Offices & Rehearsal Studios
880 Page Street
Manchester, NH 03109