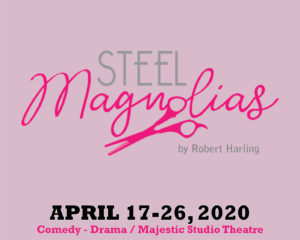 Presented by The Majestic Productions (Adults 20+)
TUESDAY, FEBRUARY 25th at 6:30pm
SUNDAY, MARCH 1st at 2:00pm
Performance Dates: April 17-26, 2020 at the Majestic Studio Theatre
SYNOPSIS:
by Robert Harling / The action is set in Truvy's beauty salon in Chinquapin, Louisiana, where all the ladies who are "anybody" come to have their hair done. Helped by her eager new assistant, Annelle (who is not sure whether or not she is still married), the outspoken, wise-cracking Truvy dispenses shampoos and free advice to the town's rich curmudgeon, Ouiser, ("I'm not crazy, I've just been in a bad mood for forty years"); an eccentric millionaire, Miss Clairee, who has a raging sweet tooth; and the local social leader, M'Lynn, whose daughter, Shelby (the prettiest girl in town), is about to marry a "good ole boy." Filled with hilarious repartee and not a few acerbic but humorously revealing verbal collisions, the play moves toward tragedy when, in the second act, the spunky Shelby (who is a diabetic) risks pregnancy and forfeits her life. The sudden realization of their mortality affects the others, but also draws on the underlying strength—and love—which give the play, and its characters, the special quality to make them truly touching, funny and marvelously amiable company in good times and bad.
DIRECTED BY CAROLE NEVEUX
CHARACTERS:
TRUVY JONES (F/mid-30s-40s): Shop Owner. She is vivacious, witty, warm, and generous. She's the family breadwinner and takes great pride in her business. Dispenses advice with lots of hairspray. She is a gossiper and loves to be in everyone's personal affairs.
ANNELLE DuPUP-DeSOTO (F/late-teens-mid-20s): Truvy's assistant. Naïve, sweet, confused and strong enough to keep going no matter what life throws at her. Annelle moves from unsure to wild to wildly religious over the course of the play.
CLAIREE BELCHER (F/late-50's-60's): Widow of former mayor. Grand dame, elegant, sophisticated, self-assured, and a true beauty. She has a smart mouth and sweet tooth. Wicked sense of humor. Ouiser's best friend.
SHELBY EATENTON-LATCHERIE (F/early-20s): The prettiest girl in town, loves the color pink. Strong-willed, passionate and determined to grab hold of all of life's experiences. She has a very youthful feel to her, almost described as child-like.
M'LYNN EATENTON (F/early 40s-early 50s): Shelby's mother. Always knows what's best, stubborn, and loves fully and fiercely. Her main priority would be her daughter, Shelby. On the surface, she is seen as strong and collective, but deep down she is fragile. She is the heart piece of the play.
OUISER BOUDREAUX (F/late 50s-60s): (Pronounced "Weezer") Wealthy, curmudgeon, tough, and eccentric. She is seen as bitter and annoyed most of the time. In her life, the things she values the most are her dog, Rhett, and her property.
SCHEDULE (starts 3/4/20):
REHEARSAL SCHEDULE*: (at Majestic Studios)

SUNDAYS from 1:00pm-4:00pm
MONDAYS and WEDNESDAYS from 6:30-9:30pm
MANDATORY DRESS REHEARSALS: (at Majestic  Studios)

SUNDAY, APRIL 12th from 6:30pm-?
MONDAY, APRIL 13th from 6:30pm-?
TUESDAY, APRIL 14th from 6:30pm-?
WEDNESDAY, APRIL 15th from 6:30pm-?
THURSDAY, APRIL 16th from 6:30pm-?

MANDATORY PERFORMANCES: (at Majestic Studios)

FRIDAY, APRIL 17th at 7:00pm
SATURDAY, APRIL 18th at 7:00pm
FRIDAY, APRIL 24th at 7:00pm
SATURDAY, APRIL 25th at 7:00pm
SUNDAY, APRIL 26th at 2:00pm

followed by MANDATORY STRIKE for all cast members.
ADDITIONAL DETAILS:
Monologues are very welcome, but not required.
Be prepared to bring all schedule conflicts to list on the audition form.
You do not need to make an audition appointment, simply show up. To print and fill out the audition form ahead of time please click here: Audition Form – Master.
There is a $25 production fee associated with this production.
Audition will also consist of readings from the script.
AUDITIONS & REHEARSALS HELD AT:
The MAJESTIC THEATRE
Offices & Rehearsal Studios
880 Page Street
Manchester, NH 03109