When:
February 15, 2019 – February 17, 2019
all-day
2019-02-15T00:00:00-05:00
2019-02-18T00:00:00-05:00
Where:
The Majestic Theatre Studio
880 Page Street
Manchester NH 03109
Cost:
Adults - $15.00 / Seniors 65+ - $12.00 / Child 17 & Under - $12.00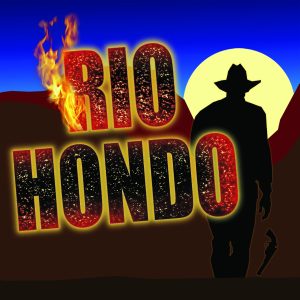 By Bill Robens – Retired Marshal Bert McGraw tries to give up his gunslinging ways, but is forced to wear his holster one last time to defend the family ranch against the encroaching railroad and its gang of cutthroats led by the notorious Sanchez. A tale of redemption as big as the old west itself, Rio Hondo is a sendup of the good-ol' fashioned Westerns you grew up loving. Utilizing Western tropes to investigate the struggle between the needs of the individual and those of the community in a rapidly changing country, this laugh-a-minute comedy will have audiences rollin' in the aisles.
DIRECTED BY JOE PELONZI
"Author Robens' tools are fascination and delight." –Stage and Cinema
"Rio Hondo… deconstructs the traditions and tropes of movie westerns with all the rigors of diligent scholarship and none of the pomposity." –Stage and Cinema
"This show is in fact so much fun that you might not notice how much it has to say, in a textual-analytical sort of way, about our collective desires, our shared concerns." –Stage and Cinema
"affably goofy, un-PC fun" –LA Times
"cast members playfully puncture the horse opera's conventions, comically conjured up by playwright Bill Robens." –Hollywood Progressive
"Ticket buyers know they're in for a rollicking rough and ready time" –Hollywood Progressive
Friday, February 15, 2019 at 7:00pm
Saturday, February 16, 2019 at 7:00pm
Sunday, February 17, 2019 at 2:00pm