By Robert Harling
The action is set in Truvy's beauty salon in Chinquapin, Louisiana, where all the ladies who are "anybody" come to have their hair done. Helped by her eager new assistant, Annelle (who is not sure whether or not she is still married), the outspoken, wise-cracking Truvy dispenses shampoos and free advice to the town's rich curmudgeon, Ouiser, ("I'm not crazy, I've just been in a bad mood for forty years"); an eccentric millionaire, Miss Clairee, who has a raging sweet tooth; and the local social leader, M'Lynn, whose daughter, Shelby (the prettiest girl in town), is about to marry a "good ole boy." Filled with hilarious repartee and not a few acerbic but humorously revealing verbal collisions, the play moves toward tragedy when, in the second act, the spunky Shelby (who is a diabetic) risks pregnancy and forfeits her life. The sudden realization of their mortality affects the others, but also draws on the underlying strength—and love—which give the play, and its characters, the special quality to make them truly touching, funny and marvelously amiable company in good times and bad.
Presented by The Majestic Productions (Adults)
LIVE IN-PERSON TICKETS AVAILABLE / NO VIRTUAL OPTION FOR THIS SHOW
Fridays, June 18 & 25, 2021 at 7:00pm
Saturdays, June 19 & 26, 2021 at 7:00pm
Sundays, June 20 & 27, 2021 at 2:00pm
Directed by Carole Neveux / Assisted by Aimee Baker
Masks are no longer required for fully vaccinated individuals.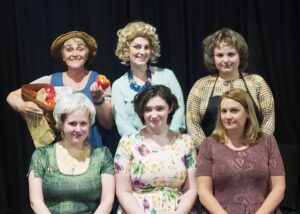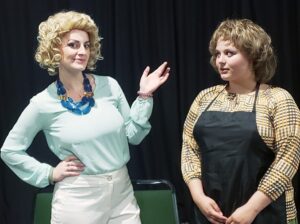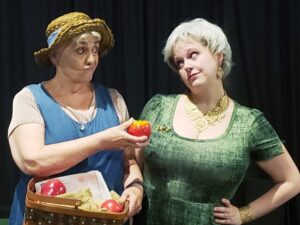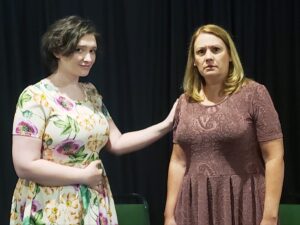 Call (603)669-7469 or stop by our box office (880 Page Street, Manchester / Tuesday through Friday from 9am-5pm) to avoid online service fees.
Please note that we no longer use Vendini as they have discontinued the service. We are now using Arts People as our Box Office provider; the online order process will look a little different – but it is us!
LIMITED AVAILABILTY – Social Distance Seating is in effect (roughly 3 feet between seated parties). It is recommended that you reserve seats at the same time if you are interested in sitting together with other patrons. Call (603)669-7469 with any questions or concerns. 
Please note that by attending in-person performances you agree to follow our COVID SAFETY GUIDELINES. If you are unable to follow these guidelines we invite you to join us at a later time when we can loosen the restrictions.
Subscribers and general public were contacted back in May 2020 letting them know that the original 2020 production of Steel Magnolias was canceled and they needed to accept comp tix, refund of could donate back. If you still have tickets for the 2020 show and never switched them over please contact the box office.
"Harling has given his women sharp, funny dialogue…The play builds to a conclusion that is deeply moving." —NY Daily News.
"…a skillfully crafted, lovingly evoked picture of eccentricity in the small-town South…Robert Harling is a new voice in the theatre and the qualities of STEEL MAGNOLIAS suggest he may be an important one." —Drama-Logue.
"…suffused with humor and tinged with tragedy." —NY Post.