When:
January 8, 2022
all-day
America/New York Timezone
2022-01-08T00:00:00-05:00
2022-01-09T00:00:00-05:00
Where:
The Majestic Studio Theatre
880 Page StreetManchester
NH 03109
Cost:
$20.00 Reserved Seating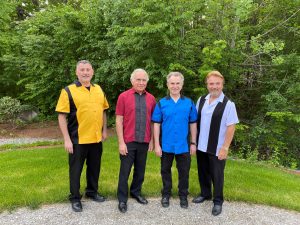 The Rockin Daddios, a vocal group from the Lakes Region of New Hampshire, are gaining popularity in New England. They are well known for their great harmonies and are known to include audience participation along with their stage antics. This is a fun group of guys! Join them (and their band) for an amazing night of Doo-Wop music that will keep your toes tapping as we stroll down memory lane! The Rockin Daddios will NOT disappoint!
Some of the venues performed:
Wolf Den at Moheghan Sun
Pitman's Freight Room
Best of N.H. Party at DD Stadium
Putnum Fund Concert Series
Wright Museum of World War II
The Herter Park along the Charles River
Franklin Opera House
Deerfield Fair
Saturday, January 8, 2022 at 7:00pm
Call (603)669-7469 to avoid online fees.