We are currently working to rebuild our website.
Please bear with us as we list our events and information.
You may purchase tickets to any event using the "Buy Tickets" link
at the top menu. As always you can call us at (603)669-7469.
Jan
25
Fri
The Music Man JR.

@ Derry Opera House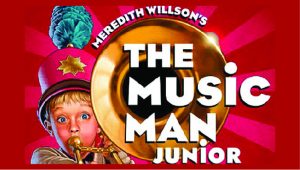 Based on Meredith Willson's six-time-Tony-Award-winning musical comedy, The Music Man JR. features some of musical theatre's most iconic songs and a story filled with wit, warmth and good old-fashioned romance.  The Music Man JR. is family entertainment at its best – a bold, brassy show that will have the whole town atwitter!
Master showman Harold Hill is in town and he's got "seventy-six trombones" in tow. Can upright, uptight Marian, the town librarian, resist his powerful allure?  The story follows fast-talking traveling salesman, Harold Hill, as he cons the people of River City, Iowa, into buying instruments and uniforms for a boys' band he vows to organize. The catch? He doesn't know a trombone from a treble clef. His plans to skip town with the cash are foiled when he falls for Marian, whose belief in Harold's power just might help him succeed in the end in spite of himself.'
Book by Meredith Willson
Music and Lyrics by Meredith Willson
Based on a story by Meredith Willson and Franklin Lacey
DIRECTED BY A. ROBERT DIONNE / Assisted by MACY BRODERICK & MORGAN BLAIS
Friday, January 25, 2019 at 7:00pm
Saturday, January 26, 2019 at 2:00pm
Saturday, January 26, 2019 at 7:00pm
Sunday, January 27, 2019 at 2:00pm
Feb
1
Fri
Love is a Many Splintered Thing

@ Executive Court Banquet Facility
by Dorothy Marcic with Hinton Battle / Musical Arrangements by Hinton Battle – Love is a Many Splintered Thing is a fast-paced, zippy musical about—what else?—relationships, looked at through nostalgic Top-40 hits: be careful, you might get "Hooked on a Feeling" and wonder "Should I Do It?" with friends saying "Don't Fall in Love With a Dreamer" because he's a "Wanderer," all the way through "Wedding Bell Blues."  When love dies, "You Don't Bring Me Flowers," to renewal "You Make My Dreams come True." You get the idea.
DIRECTED BY REBECCA ANTONAKOS-BELANGER
MUSICAL DIRECTION BY KEITH BELANGER
. . .a look at how brilliantly popular culture has been documented through the songs we made into hits. This is an energetic and lively production, with a good cast of talented singers and actors. . . the wave of romantic nostalgia that 'What We Do For Love' evokes is an even better reason to attend and enjoy the show. —Michael Freeman, The Ledger
Writer Dorothy Marcic creates a well structured mash up of the genre, capturing the sound and feel of a time when we were all younger, and perhaps not even born yet. . .  fluid and dynamic show. . .  nostalgic romance coupled with a 21st century attention span. —Carl Gauze, Ink 19 Archikulture
24-HOUR ADVANCED RESERVATIONS REQUIRED; LIMITED TICKETS AVAILABLE UP TO 3 HOURS PRIOR TO EVENT START. Call (603)669-7469 to avoid online service fees.
Menu:
Pork Loin with Apple Demi Glaze, Served with Chef's Choice of Vegetable and Starch. Chocolate Seduction Cake
Vegetarian and Gluten-Free options are available with advanced notice (Chef's Choice)
CASH BAR (Cards accepted) available at all dinner theatre events.
Friday, February 1, 2019 at 7:00pm
Saturday, February 2, 2019 at 7:00pm
Sunday, February 3, 2019 at 1:30pm
Feb
15
Fri
Rio Hondo

@ The Majestic Theatre Studio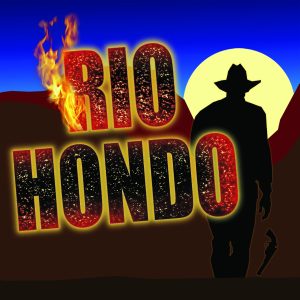 By Bill Robens – Retired Marshal Bert McGraw tries to give up his gunslinging ways, but is forced to wear his holster one last time to defend the family ranch against the encroaching railroad and its gang of cutthroats led by the notorious Sanchez. A tale of redemption as big as the old west itself, Rio Hondo is a sendup of the good-ol' fashioned Westerns you grew up loving. Utilizing Western tropes to investigate the struggle between the needs of the individual and those of the community in a rapidly changing country, this laugh-a-minute comedy will have audiences rollin' in the aisles.
DIRECTED BY JOE PELONZI
"Author Robens' tools are fascination and delight." –Stage and Cinema
"Rio Hondo… deconstructs the traditions and tropes of movie westerns with all the rigors of diligent scholarship and none of the pomposity." –Stage and Cinema
"This show is in fact so much fun that you might not notice how much it has to say, in a textual-analytical sort of way, about our collective desires, our shared concerns." –Stage and Cinema
"affably goofy, un-PC fun" –LA Times
"cast members playfully puncture the horse opera's conventions, comically conjured up by playwright Bill Robens." –Hollywood Progressive
"Ticket buyers know they're in for a rollicking rough and ready time" –Hollywood Progressive
Friday, February 15, 2019 at 7:00pm
Saturday, February 16, 2019 at 7:00pm
Sunday, February 17, 2019 at 2:00pm
No Results Found
The page you requested could not be found. Try refining your search, or use the navigation above to locate the post.